Finally Finished Rugs
We're hooked on rug binding...

and finishing other hooked projects too.
Do you Love Rug Hooking, but ...
Hate to do the finishing work on your projects?
You're in Luck!
We'll carefully hand-finish those projects for you.
About Us
We are a mother and daughter team of second and third generation Rug Hookers with more than 25 years of experience.
We'll carefully complete those unfinished rugs and other hooked projects so you can finally enjoy them. You can bring them to us in New London, New Hampshire, or better still, ship them directly via mail, UPS, etc.
What We Do
We will carefully finish your hooked project so you'll be able to give it away or display it for your own enjoyment.
We will happily tackle any project, big or small. When you call or email us, we will discuss your choice of finishing methods and estimated times for completion. If you have not already purchased finishing supplies, we will do that for you, as we live near the Dorr Mill Store.
We can do any type of finishing that you have seen and admired or we can suggest one that we think would nicely suit your project.
In addition to binding the edges, we will also block your piece to give it that crisp, even, professional finish.
Corded and Whipped Edging
Whipstitching (with a corded and whipped edging) is a neat method of covering the rug edges. We can use the same color yarn as your hooked rug.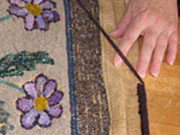 Hooked Rug Binding
Rug Binding is a cotton twill tape about an 1 1/2 inches wide. We will choose a color that will coordinate with your rug colors.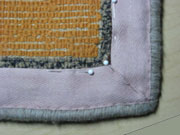 Binding your rug adds a wonderful finished look to the front of your rug and a strong durable edge. The back of your rug will look nice and neat and all raw edges will be covered and protected.
Our specialty is a corded edge, whipped with wool yarn or finished with wool material. But we will gladly finish your piece to your preference.
A hooked rug finished properly will last for many years, bringing pride to the creator and delight to all who see it. It quickly becomes a much admired and loved family heirloom!